How to Buy
Are you a fan of Jumanji, the famous children's book, or of the classic movie of the same name? Although Jumanji the movie came out over twenty years ago, it still has a place in hearts and childhood memories of thousands of people all over the world. The same goes for the book, which has become a modern classic.
What better item to add to your movie memorabilia collection (or what better gift to give to the die-hard Jumanji fan) than a custom-made, screen-accurate Jumanji board? If you are thinking of buying such a board, then you've come to the right place!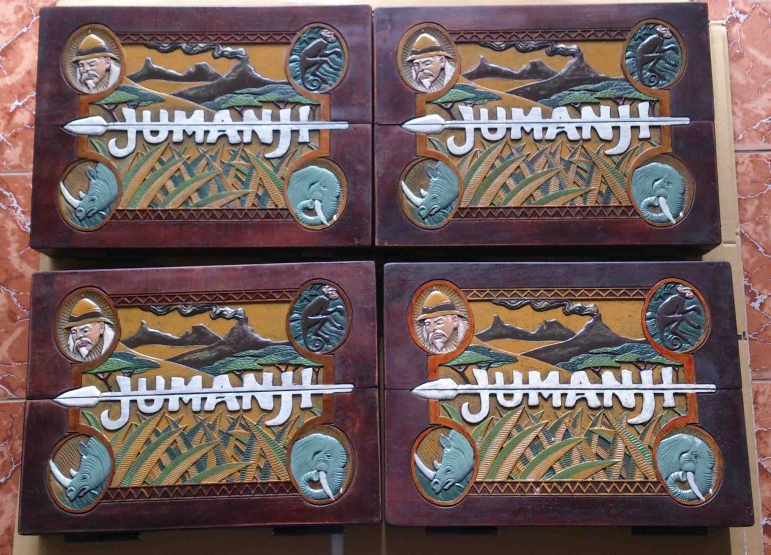 Before buying a board, you should have a checklist of what exactly you are looking for. You would want to have a board that is as close a match as possible to the one used in the movie. You would want a hardwood board with pieces that don't fall off during gameplay, and pieces that are professionally carved to look just like the movie animals and fantasy creatures.
For the casing, it only makes sense for professionally crafted pieces to go into a professionally crafted case, and that is just what we have. The casing has the same solid woodwork finish that the movie casing had, and an additional feature is that the central dome lights up as well to give things an even more original feel.
We've added sound as well: having the Jumanji theme music play at the press of a button is a nice added touch, and special dice that are different from standard dice also make part of the package. All in all, the box and related materials weighs a whopping 4kg, but with that weight you know you are getting a solid, high quality item!
Look no further than our screen-accurate Jumanji boards and order your custom piece today. Please contact us if you have any questions.